About Melbourne Bolt Company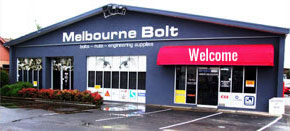 Melbourne Bolt Company has been operating from the industrial hub of Braeside since 1979. Through it's history Melbourne Bolt Company has focused on customer driven service and stock levels to match these requirements.
We can source and supply your fastener requirements from local and overseas supply chains.
Located at 271 Boundary Road Braeside, our fully stock 20,000 square foot warehouse supplies a full range of fastners to industry.
For any of your fastener needs, being standard or non standard, let the team at Melbourne Bolt be your day to day supplier.
The following links will show sizes available for some popular products: